2021 A New Year – A Time for New Ideas
Hopefully, we will never experience another year like 2020 with its many difficulties for everyone.  Hopefully, 2021 will be a year full of – just that – hope.
There's no doubt that the butchery market will change again this year and the emphasis must surely be on maintaining the momentum and expanded customer base that many retail butchers achieved through their hard work and enterprise in 2020. How to do that will be a topic for much consideration and focus.
At Lucas we believe that key to retaining business gains will be creativity, inventiveness and the introduction of new products. These things will be vital in ensuring that butchers do not become complacent and that customers do not become disinterested in what's on offer from their local butcher. There is bound to be an increase in competition as customers begin to leave their homes and possibly return to their former shopping habits. It is our job in the retail butchery sector to do all we can to make sure they don't do that.
With this in mind, the team at Lucas has spent the last few months getting creative with our most popular existing products and developing new products that will help keep our offering fresh, relevant and what customers want. Our access to market insights provided by our parent, Kerry, is second to none and enables us to predict and respond to food and lifestyle trends that are emerging not just in the UK, but all around the world. That means we can put you, the retail butcher, in a very strong position to provide your customers with tastes, textures and eating experiences that are right on target and that should grow in popularity over the coming months and years.
During 2020 we developed a number of menus designed to help butchers wanting to serve the needs of customers who were increasingly eating at home – whether through choice or necessity. The menus were very well received and so during 2021, we will continue to produce new, vibrant and interesting variations on this theme. As the year progresses, customers will surely begin to eat out more again, but this may be a slow process and there will certainly be those who have enjoyed spending time with their families, having meals at home and will continue to want do so. It will be important that butchers can respond to this imaginatively and with originality. You can look to Lucas to help you with that.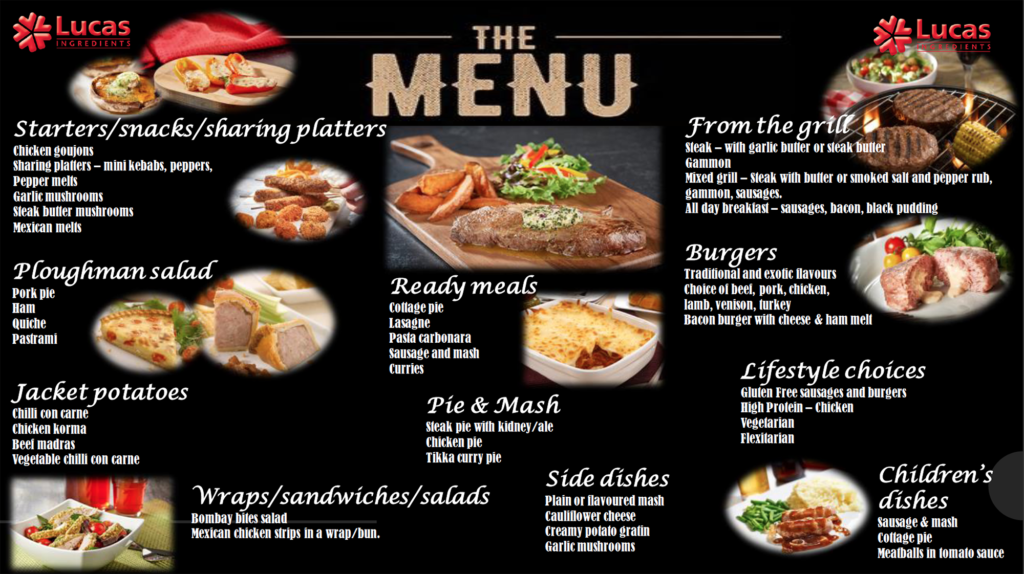 Our original menu focus was on feeding all the family – a really effective way of ensuring repeat custom.  Eat at home foods that will suit adults, children and those will particular dietary preferences, or needs were featured.  We'll be revisiting that first menu of ideas in January and will add to it as the year progresses. Whilst there may be echoes of the dark days we have all encountered during 2020, we firmly believe that 2021 will be a time of resurgence in all areas of our lives.  We hope that at Lucas, we can look forward to coming into the sunlight with you, our customers and to us all seeing a much brighter future.  We're looking forward to providing you with some real inspiration and many pleasant surprises throughout this much more positive year.
Keep an eye on our website and social media for lots of bright new ideas in 2021.