Eat at Home Continues. Time to get creative with Lucas brands…
As the lockdown goes on, so must we all – and more than ever, customers are relying on their local butcher to help them through these difficult times.
We all know how tricky it can be to come up with something different to eat day after day and night after night, but at Lucas, our ability to come up with new ideas, as well as to prepare some tried and tested staples will help you help your (possibly frazzled) customers.
From curries to cottage pies, meatballs to buttered mushrooms, we've created a huge choice of recipes using key ingredients from the Lucas stable. We've selected elements from our Smokehouse, Butchers Classic, Easicure, Easicoat and Lucas Kitchen ranges to develop delicious dishes, superb sausages, burgers, bacons, snacks and savouries. There are so many to choose from!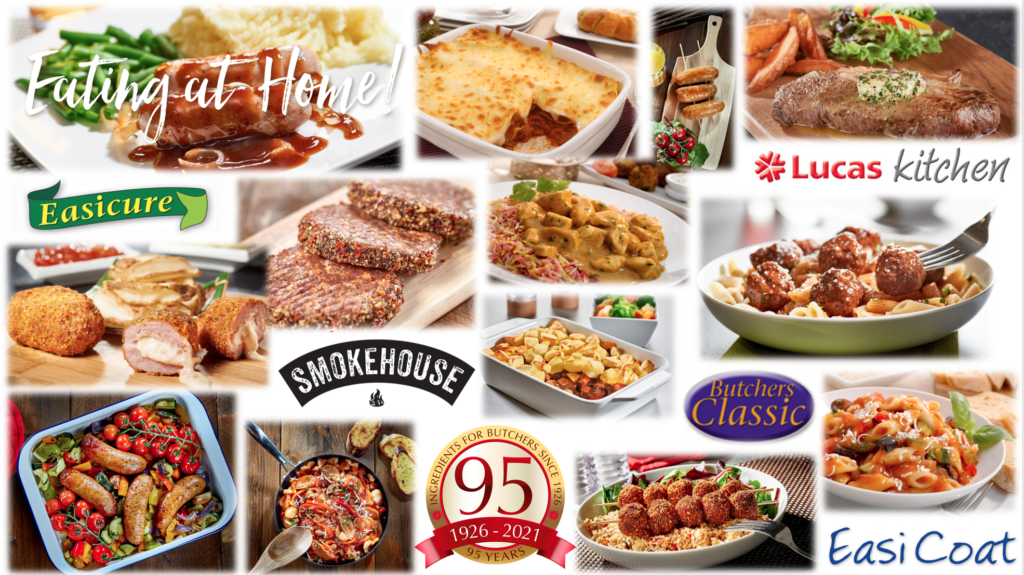 The versatility of our ingredients has really come to the fore in the past year, with our butchery customers experimenting to produce their own "signature" choices, as well as the Lucas development team coming up with some really interesting and incredibly popular foods. A simple Kiev can be transformed by the right Easicoat Coater, vegetables are so much tastier with a Lucas Steak, or Garlic butter. Bacon burgers stuffed with our melting cheese and ham can sit alongside flavoursome mash, or potato-topped dishes, made using our ever-popular Potato Topping Mix. Vegetarians, flexitarians, gluten-free eaters and meat fans can all be catered for.
Lucas ingredients are always produced with care and are completely reliable, safe and consistent. And let's face it, they should be – after all, we've been at it for 95 years!
When you're seeking some inspiration, take a look at our social media channels, visit our website, or even better, give us a call on our free careline. We're always happy to give advice and even have a chat. We know, we're all in this together and sharing ideas can benefit everyone.