Eat Out at Home – with the Lucas Menu
There's little doubt that it will be a long time before most people are ready to go back to eating out at cafes, restaurants, bars and pubs, (ah, remember those places?), which means that butchers have an opportunity to go beyond supplying simple meats: Here's the ideal time to offer meats and ready meals that are similar to those that customers would normally enjoy when they're eating out.
This is the chance to maintain the momentum and customer base that you have built up during this unprecedented situation. It's the time to lock those customers in to your business and to help them think of their local butcher as the place to go when they want something special for breakfast, lunch, dinner, or just a snack. Something they can prepare at home that will be great quality and just as delicious as a meal eaten out. More often than not, it will be much cheaper too!
With this in mind, we've put together a "Menu" of options for eating out at home.  Hopefully, our menu will inspire you and give you some fresh ideas that will help you help your customers.  Be adventurous and creative and it will certainly pay dividends.
We've carved up the Menu (excuse the pun) into different eating options.  These include "Starters/Snacks/Sharing Platters", "Ploughman's Picnic", "Jacket Potatoes", "Wraps/Sandwiches/Salads", "Ready Meals", "Pie & Mash", "From the Grill", "Burgers", "Side Dishes", "Lifestyle Choices" and "Children's Dishes".  Within each category is a selection of meal choices that you can produce using Lucas ingredients and mixes.  There are recipes, demonstration videos and pictures on our website that give guidance on how to get the best results from your Lucas products – though they're all very simple to use, sometimes an extra bit of information is useful.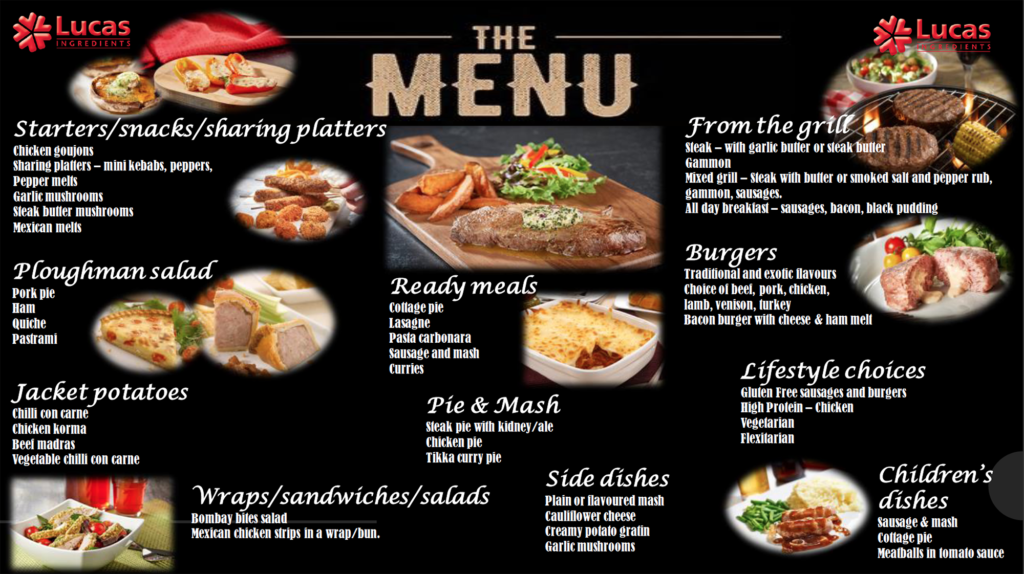 As time goes on, butchers will need to become more versatile – going beyond the everyday fare of quality meats, sausages and burgers that you would generally produce, to create the illusion of eating out in the home.   You might want to use the Menu as the basis for a series of "specials" for your customers – take away a picnic, bag an all-day breakfast, afternoon tea in a box, something on the side, ploughmans in a pack.  Or, how about making a meal deal: steak with garlic butter and cheesy mash; gammon steak and cauliflower cheese? But remember – that eating out might reflect not just the UK, but eating out on holiday abroad too. With Lucas, you'll be able to create dishes that emulate holiday flavours, at home.
This is such an exciting time for retail butchers and we're delighted to be able to work with you to keep us all going as we stay at home for the best eating experience of all!