Feed ALL the Family with Lucas
One of our team members has a family of five people: Two adults and three children. Three of the family members are out and out carnivores, one is a vegetarian and one a "flexitarian". "Flexitarian?" I hear you ask: Someone who likes meat and vegetables combined and is a bit of a meat minimalist. So, what to do when they visit the butchers? How can everyone be pleased?
Well, the carnivores are easy – they want their meat, meat, meat, but the other two are potentially tricky. At least, that used to be the case, but not anymore, as their local butcher has introduced two new ranges that mean everyone in the family is catered for.
This enterprising local butcher, now offers Lucas Vegetarian sausages, vegetarian 'meatballs', haloumi kebabs (made using Lucas Steak Butter) and a number of other vegetarian options. Alongside this sit a number of Flexitarian choices including Pork Dinner Burger, made with Butchers Classic Pork & Apple Burger Mix (he's reduced the amount of meat in the burger and added frozen vegetables: sprouts, parsnips and carrots), Louisiana Meatballs, using Louisiana Meatball Mix, (again, with reduced meat and added kidney beans with frozen mixed peppers). These flexitarian products are good for encouraging children to eat more vegetables – another huge benefit.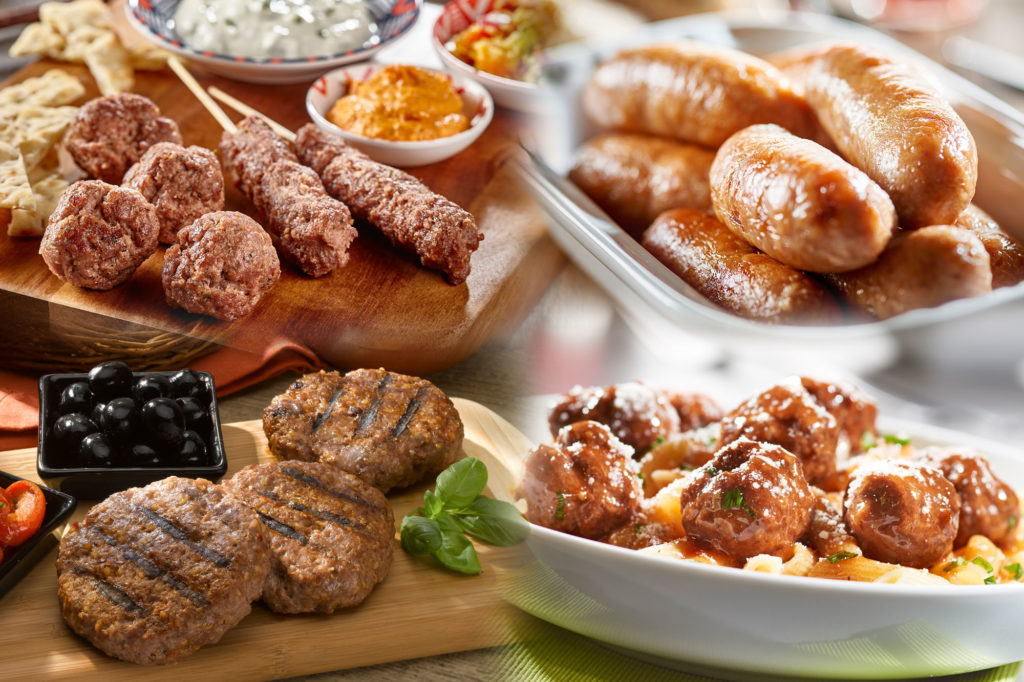 Now, rather than the butcher losing sales, he's grabbing valuable extra business by catering for everyone in the family. That means everyone is happy: the customers because they're not having to traipse around three different shops and can be loyal in supporting their local high street retailer: the butcher because he retains the business and even better, the vegetarian and flexitarian foods can be sold at a premium. Win, win all around!
To make things even easier, we've now introduced a 5kg pack size of Vegetarian Sausage Mix, so that butchers who want to experiment and offer a small number of options initially can do so for a small outlay. As sales grow, there's the usual 10kg pack size available too.
Don't miss out on the opportunity to feed all the family, keep customers in your shop and most importantly, keep everyone happy.
If you'd like to have a chat about any vegetarian, or flexitarian ideas you may have, or if you have any questions, give the Lucas team a call free on 0800 138 5837.