Get Ready NOW – The Barbecues Are Coming Out!
Following the recent announcement of a planned relaxing of COVID restrictions, garden centres are, apparently, running out of furniture, pots, plants, firepits and barbecues. There's been a run on fence paint and sales of outdoor picnic ware has rocketed.
It seems that households, friends and families are planning to come together as they're allowed, but mindful of safety, will be doing so outside. Consequently, they want their outdoor spaces to be as attractive and welcoming as possible and it looks like this is a trend that will continue for the foreseeable future.
All of that is, of course, fantastic news for retail butchers – as there will be barbecues galore!
That means more than ever, you need to be preparing now for what looks like being an extremely busy barbecue season. We reckon also, that the season will extend way beyond the Summer – starting earlier and lasting longer – as we get more and more used to eating al fresco, with outdoor tents, patio heaters and gazebos also going great guns.
This desire of customers to impress those who will be visiting their gardens will present a fantastic opportunity for butchers to help them impress with the food they serve too! More exciting flavours will surely be on the menu, as will dishes that suit people with different dietary preferences – with vegetarian and gluten-free options being particularly sought.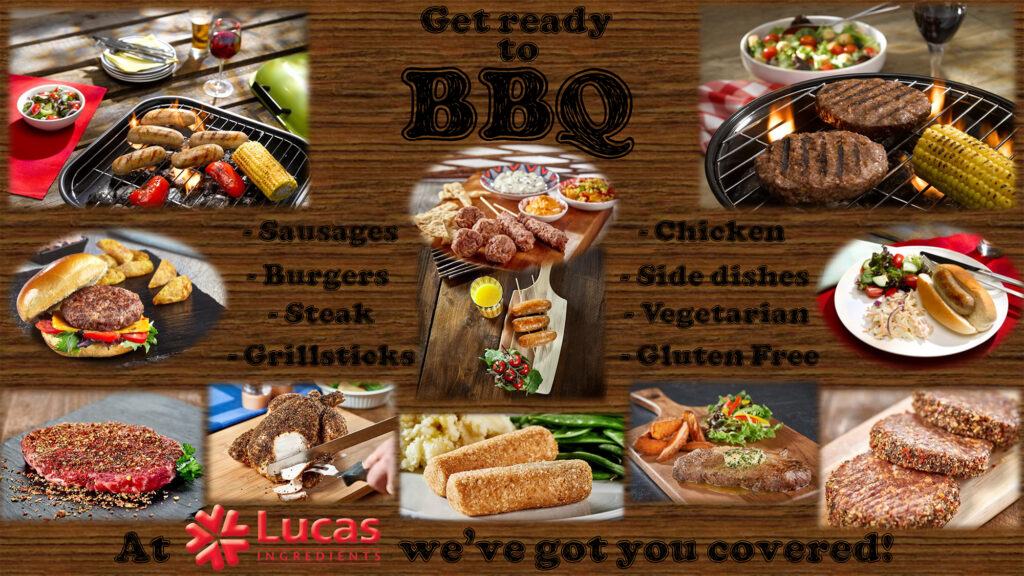 Any butcher looking for great ideas for barbecues that will really do the business should take a look at the Lucas website and our new BBQ Menu. It's loaded with brilliant products – sausages, burgers, grill sticks, veggie options – to mention but a few. Flavours include our Smokehouse range – absolutely bang on for the barbecue – as well as 20 Butchers Classic Sausage Mix varieties that provide a huge choice. Our Easicoat Coaters are ready to use and can really pep up a whole range of meats, as does our incredibly versatile Smoked Salt & Pepper Rub. We also produce some really tasty Culinary Added Value items, such as Garlic and Steak Butters and our Ham & Cheese Melts. Team all this with our long-established Sausage and Burger Seasonings and you'll be ready to offer your customers something really interesting this year.
As we reckon the barbecue season will be long this year, it will be important for butchers to keep their offering fresh and to include new flavours, textures and ready-to-go meats. That means planning now, so you're ready to go and we're here to help you do just that!