Cauliflower Cheese
Using Lucas Bechamel Sauce Mix – 20053032
A great side dish for Pork Chops, Sausages or a Roast dinner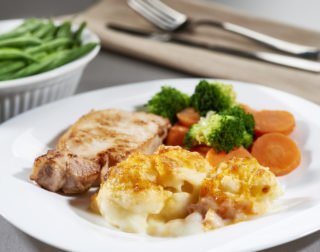 Product make up:
Cauliflower florets
0.600
Cold Water (For Bechamel Sauce Mix)
0.255
Grated Orange Cheddar Cheese
0.100
Method
To make the béchamel sauce. Weigh out the dry béchamel sauce mix in the recipe above and add the measure amount of water. Mix both thoroughly together.
Add the Cauliflower florets to ovenable trays
Pour over the made up béchamel sauce over the Cauliflower Florets
Sprinkled on the Cheddar
For decoration sprinkle a little paprika powder over the top.
The Cauliflower Cheese can be sold as a kitchen ready product, either in foil, cpet or similar ovenable trays.
Note:
The sauce is freeze stable, so is suitable for making in large batch sizes.
Cooking Instructions:
Oven cook. Cooking temperature 190ºC
Cook until piping hot, or an even temperature of 72°C is reached.