Lasagne
Using Lucas Tomato Sauce Mix – 20053030 & Lucas Béchamel Sauce Mix – 20053032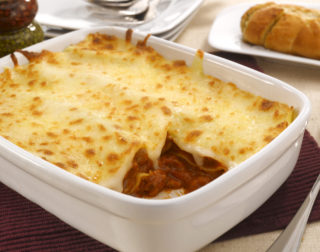 Product make up:
Lucas Tomato Sauce Mix - 20053030
0.900
Lucas Béchamel Sauce Mix - 20053032
0.750
Method
500g Tomato Sauce (90g dry powder to 410g cold water)
500g Beef Mince
½ large onion – chopped
200g chopped mushrooms
500g Béchamel Sauce (75g dry powder to 425g of cold water)
100g mature cheddar cheese
Lasagne sheets (dry or fresh)
(use the quantities as per the recipe above)
1. Dice the mushrooms and onions.
2. Fry the beef mince, onion and mushroom, until cooked.
3. Once cooked drain off the excess liquid and allow to cool.
4. Hydrate both the tomato and béchamel sauce as per the quantities above.
5. Add the mince, onion and mushroom into the tomato sauce.
6. Place half this mixture into the foil tray and cover with the lasagne sheets.
7. Repeat point 6 again.
8. Pour the béchamel over the lasagne.
9. Sprinkle on the mature cheddar.
10. Place on the foil lid.
This product is now ready for sale (keep chilled) or the product can be frozen.