Mediterranean Vegetable Pasta
Using Lucas Tomato Sauce – 20053030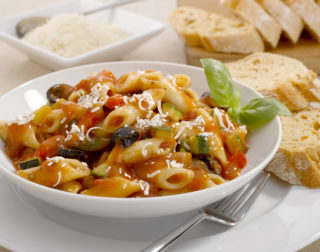 Method
Usage 18% dry mix to 82% Cold Water.
To your 180g dry mix sample, add 820g cold water (This makes 1 kg of sauce).
For every 1Kg of sauce add the following ingredients:-
125g Red Onion
125g Mushrooms
250g Courgettes
250g Mixed Peppers
125g Pasta Penne (partially cooked)
1. Dice all the vegetables and par-boil for 2 minutes. Drain and allow to cool.
2. Bring a pan of water to the boil and par-boil the pasta penne for 2 minutes. Drain and run under the cold water.
3. Weigh the dry mix into a bowl and mix with the measured amount of water. Allow to hydrate
4. Mix the vegetables and pasta into the tomato sauce. This is ready to put into ovenable or foil trays.