Pork Pies
Using Butchers Classic Pork Pie Seasoning – 20055085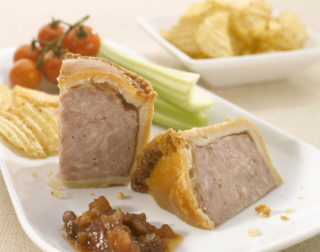 Product make up:
Pork Meat (90vl) (mince 8mm)
50.00
10
0
4.486
Pork Meat (70vl) (mince 5mm)
30.00
6
0
2.700
Pork Pie seasoning with Cure - 20055085
3.00
0
10
0.284
Cold Water/ice
10.00
2
0
0.900
Method
Note:- Pork pie seasonings with cure are supplied as split packs. Both packs must be used in the above recipe mixed together in a 1:1 ratio, spice pack: cure pack.
Please ensure that the seasoning and the cure pack are mixed together evenly, before adding the meat.
Method – Using a mixer
Place the minced meat in the mixing bowl, add the rusk and seasoning. Mix to disperse well.
Gradually add cold water. Mix until absorbed and the desired texture is obtained.
Leave to cure for 1 hour at room temperature: fill into pie shells as required.
Filling

In this recipe, the assumption has been made that the weight of filling will be equal to the total weight of pastry (i.e shell and lid).
Baking
The pies should be baked at 200°C/400°F/Gas 6 to an internal temperature of 160°F/72°C.
The pies can be glazed prior to and after baking using Lucas Pastry Glaze – 20053266.
Gelling

Gelatine can be added to the pies after baking if required. Using Jel Flaval Super Savoury – 20050829 / 20050830.