Quiche
Using Lucas Quiche Mix – 20053042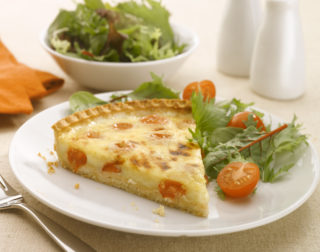 Product make up:
Quiche Mix
22.00
2
2
1.000
Cold Water
78.00
7
14
3.540
Method
Mix the required weight of quiche mix with cold water and stir thoroughly ensuring final mix is lump free.
Allow to stand for 30 minutes to ensure complete hydration of mix.
Cheese, vegetables or meat may be added to the mix at this stage, ensuring an even distribution throughout the mix.
Fill mix into flan cases.
Cook in oven at 200°C (400°F / gas mark 6) for the required time.
Note:
• Can be served plain or with fresh additions added to make alternative recipes:- bacon, cheese, mixed peppers, leeks, courgettes, onion.
• Quiches are freeze stable and can be frozen prior to, or after cooking.
Make family or individual sized quiches – great for "on the go" snacks, buffets and picnic occasions.