Smokey Meatballs in Tomato Sauce
Using Lucas Tomato Sauce Mix – 20053030 and Lucas Tennessee Burger Mix – 20457193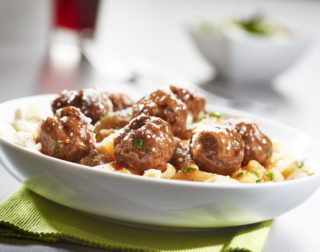 Product make up:
Lucas Tennessee Burger Mix 20457193
Lucas Tomato sauce mix 500g
Method
(makes 2 trays – Scale up accordingly)
Lucas Tennessee Burger Mix 20457193 (make and form in to Meatballs – see product recipe B81)
Lucas Tomato sauce mix 500g (90g Tomato Sauce Mix and 410g of Cold Water) (250g of sauce per tray)
Chopped Fresh Basil for garnish (sauce makes 2 trays)
1.  Add the meatballs to the tray.
2. Make the tomato sauce mix. Weigh the above quantity of Tomato sauce mix and add the measured amount of water.
3. Mix thoroughly, until the sauce thickens.
4. Pour over the tomato sauce and garnish with chopped basil.
The Meatballs in tomato sauce can be sold as a kitchen ready product, either in foil, cpet or similar ovenable trays.
Note:
The sauce is freeze stable, so is suitable for making in large batch sizes.
Cooking Instructions:
Oven cook. Cooking temperature 190ºC
During cooking, stir the sauce a couple of times.
Cook until piping hot, or an even temperature of 72°C is reached.
Other Recipe Ideas:-
This classic tomato sauce mix is bursting with flavour and is ideal as a topping for pizza, jacket potatoes, or a delicious extra with mashed potato. It is the perfect base sauce for ready meals, such as pasta bake, lasagne, spaghetti bolognese or even as a sausage casserole.