West Country Pasty
Using Lucas West Country Pasty Mix – 20054295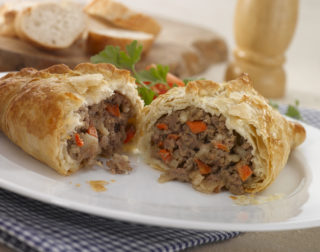 Product make up:
West Country Pasty Mix
15.00
1
8
0.681
Hot Water
45.00
4
8
2.043
Beef meat (80vl)
40.00
4
0
1.816
Method
For a 10lb/4.54Kgs
Place the hot water in a mixing bowl; add the West Country Pasty Mix and stir well to disperse; cover and leave to hydrate for 30 minutes.
Add the Minced Beef and mix to disperse well.
Place the filling into suitable pastry cases, *glaze using the Lucas pastry glaze – 20053266. This should be done prior to and again 5 minutes before the end of baking.
Bake at 400°F/200°C/gas mark 6, until an internal temperature of 72°C is reached.